Indoor family entertainment centers provide a safe, clean, climate-controlled alternative to outdoor, weather-permitting family activities.
Caregivers, schools, coaches and parents are in search of spaces filled with multiple activities, to gather to play, and share in celebration.
Why join Flippo's? The Market for Indoor Playground Franchises is clear.
Flippo's is an indoor playground franchise that provides an exceptional, appealing business model that is directly supported by an experienced, forward-thinking management team who are committed to the growth of franchise owners and establishing a dominant brand reputation.
Dynamic, clean indoor play space with something for all family members.
Proprietary Flippo's character to light up the room or be the life of the party.
Arcade games through established third party vendors
Parties kids will rave about!
Afterschool programs, camps, enrichment classes, and so much more!
What is as important to us as the families we serve? Providing you tools and support that will help your indoor playground franchise thrive. To learn more about our indoor playground franchise program and benefits, visit our Frequently Asked Questions page or contact us.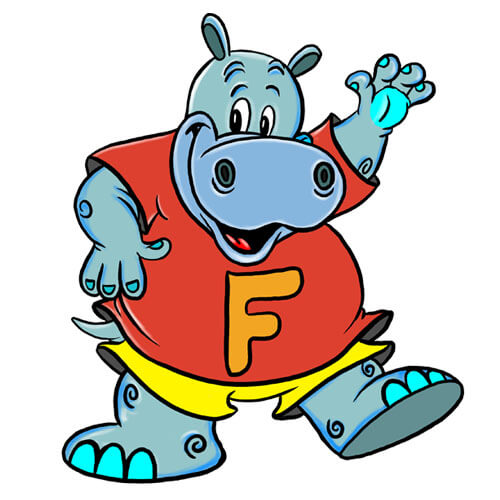 Multiple Revenue Streams within the Flippo's Strategic Indoor Playground Franchise Business Model
Second, only to admission to activities, fun, and games, food and beverage sales are projected as one of the more promising aspects driving growth within any operating family entertainment center.
As with all offerings at Flippo's, the café satisfies everyone (from picky eaters to health-conscious parents) with delicious options on our menu, always baked – not fried. Our indoor playground franchise for sale offers a selection of starters, sandwiches, burgers, paninis, wraps, pizza and salads.
To drink, your Flippo's indoor playground franchise can serve up water, fountain drinks, beer and wine for adult guests and even a full coffee bar (perfect for the morning coffee clutch groups!).
Why is our Indoor Playground Franchise for Sale a good Investment?
This is your chance to become part of an exciting brand built on the personal experience for parents who know what their customers desire, and require, from an indoor playground franchise.
When you start a business based on your own demographic, it's easy to understand your customer.
That is exactly what Flippo's founders have done, and now you have a chance to build your own indoor playground franchise based on a brand and business model built for growth.